Hi Friends!
It's a beautiful Thursday here in NY. It's so hard to be cooped up inside knowing that on the other side of these walls the sun is shining and the birds are chirping. Oh well, that's life, right? I decided to start my day with a different breakfast this morning. I am a creature of habit and could eat the same breakfast for months. I will literally eat it until one day I can't even stand to look at it anymore. Instead of letting it get to that point I'm going to really try to listen to what my body is craving (and what food I have available to me). Last night, while making quick trip to the grocery store to grab things for dinner, an old favorite caught my eye.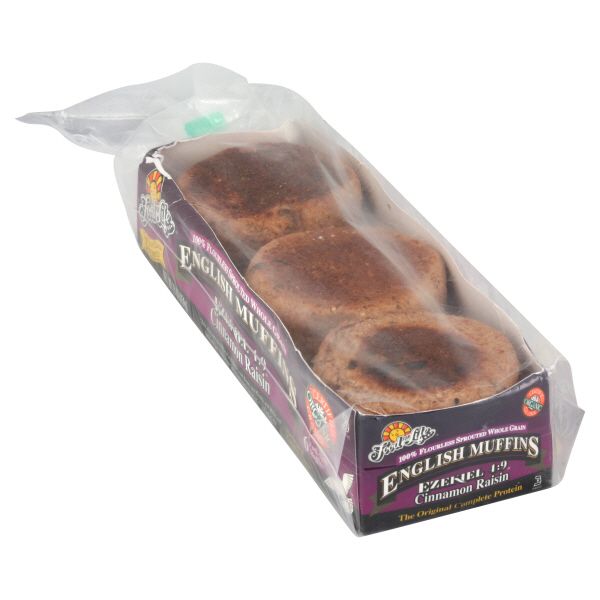 In CT, I only found these in Whole Foods. Unfortunately, I don't have a Whole Foods near me (of course they opened one right down the street from where I used to live AFTER I moved…errrr!), but might have to scout one out in the near future. Anyway, I was beyond excited to find these in the freezer aisle and hurried to grab a pack to place in my basket. My mind was already fast forwarding to today's breakfast. Even though I had this in mind, I made sure that it was really what I was craving this morning. I didn't want to eat it just because I had it. I thought about my options (whole wheat waffles w/ greek yogurt & berries, cereal & almond milk with fruit, one of my sugar free muffins with egg whites or greek yogurt, etc) and decided that I still wanted the English muffin and nothing else would do. So, I packed my meal up and enjoyed it at my desk while catching up on some morning e-mails. 
Good Ol' Joe
Water with Lemon in My Favorite Butterfly Cup
 Cinnamon-Raisin Ezekiel English Muffin Toasted
Then Spread with French Onion Laughing Cow
Hard Boiled Egg Whites
 This Girly Loves Her Protein
Vitamins to Round Everything Out
I'm a happy girl and my belly is quite happy too. 😉
Last night, while Rob was doing some work, I decided to play around with my blog layout. What do you think? I found the theme I'm currently using and decided to take the plunge.  When I switched the blog over my header went missing. Of course, this happened just as we were going to cuddle up to watch Royal Pains. Rob had it paused on the tv screen but I couldn't pull myself away from the computer.
I hurriedly Googled "butterflies", but couldn't find what I had originally used. I thought about putting a different picture in my header, but butterflies are a symbol to me and my journey. Yes, I'm a girly girl who just happens to like butterflies. However, on the blog they remind me that just as each butterfly is unique, they still look beautiful to me in their own way. No two wings are the same, yet I am not critical of that fact. I see them as a whole, just as I should see myself. They also are the end product of a metamorphosis.
Remember learning about the butterfly's life cycle in elementary school?
Life is definitely a journey and over the years I've gone through my own metamorphosis, of sorts. I hope that I continually evolve to become the best me possible. Will I be perfect? Nope, never. I'll make mistakes, get off course, belittle myself for something minor and will probably not be able to please everyone the way that I would like to. However, I will be happy knowing that I always tried my best, worked to be a good person and continued to dream & reach for my goals.
I had a difficult time sleeping last night knowing that my beloved butterflies weren't on my header.  In the middle of the night I remembered that I had saved them to my laptop.  The first thing I did this morning was find them and load them back up.  I'm so glad I thought ahead when I originally found them. 🙂
Unfortunately, I must RUN to get some work done…..Today has already been CRAZY with the unexpected.  It's moving like lightning though, which works for me! 
Have a great day!
❤
Kim